Increase The Value of Your NJ Kitchen With Our Renovation Services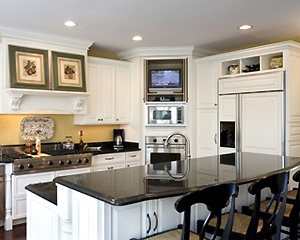 Kitchen renovation is an investment that increases your home's value for right now and the future. With the popularity of cooking shows and home entertaining, custom kitchens are a hot commodity. Because they are so coveted, the trends have probably changed dramatically since your existing space was designed. We are a kitchen design and remodel specialist that can give you an upgrade you will love.
Kitchen renovation is the answer when you can't look at that old linoleum flooring for another second. Or when you're tired of pots and pans crashing down whenever you open a cabinet. Or just when it's time to get the space you deserve.
As an experienced kitchen remodeling company, we can create beautiful and usable rooms. Custom kitchens are a treat to eat and cook in, but did you know they offer a great return on investment? If you ever plan to sell your home, a kitchen renovation makes a home sell faster. An outdated cooking space can kill the deal on an otherwise beautiful home. We'll help you get rid of old appliances, stained countertops and ugly cabinetry, projects the buyer will have to tackle.
Kitchen Renovation Ideas
With over a decade of kitchen renovation experience, we know that function is as important as beauty. So we spend a great deal of time learning about how you use the kitchen. If you like to cook but often feel like it's a hassle, we may rearrange the layout for better flow. If you have lots of gadgets to store, we may suggest custom cabinets to better suit your needs. When we create custom kitchens, we ensure that they will make your life easier.
Custom Cabinets
Nothing makes a kitchen renovation work better than custom cabinets. We arrange your refrigerator, range and sink in a triangle to help you move from one critical spot to the next with no problem. Once those items are placed, kitchen cabinets allow us to use every square inch of space to your advantage.
Kitchen renovation eliminates gaps and awkward placement. Instead of a nasty gap between appliances and counters, you can have vertical storage for cutting boards. Rather than crowding your countertops with small appliances, you can have a moveable shelf that pops up that heavy stand mixer when you need it. You can have a well-organized kitchen with everything you need at your fingertips.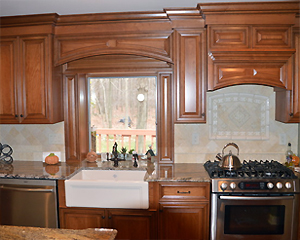 A big kitchen renovation mistake is catering to current trends rather than a client's personal style. We listen to what you like and what you want. It is our pleasure to ensure we have tastefully reflected your preferences in every aspect of the room.
We believe a kitchen renovation should be stress-free and enjoyable. Many homeowners hesitate to tackle major projects like this because they have heard about how unpleasant it can be to have a group of strangers tearing up your home. They also think the cost to remodel a kitchen will escalate after the work starts. We won't let that happen.
Our home renovation contractors are professional, friendly, and genuinely care about making you happy. When the project is complete, we leave your home spotless.
Need kitchen renovation in Mountain Lakes, Boonton Township, Montville or a nearby city? Contact us today for a no cost, no obligation estimate and design.