Luxury Kitchen Design Contractors in NJ & NY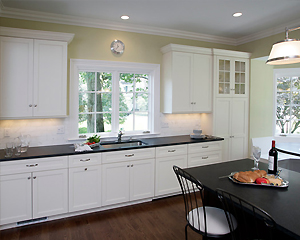 Call our kitchen design and remodel company when you want to create a unique space just for you. With some other remodelers, you need an architect to design it and someone else to build it. Even then, you might end up with cookie-cutter looks. We take pride in kitchen remodeling that works hard for you while looking effortless.
Each custom kitchen design should be as unique as the individual client. Our design-build team takes the time to get to know how you use the space. Families are spending a lot more time not just cooking and eating, but gathering for quality time. So we consider whether your room should be a place to cook, entertain, work, relax, or all those things.
Kitchen layouts grew smaller with the advent of the microwave. But as slow cooking comes back into vogue, families and home-buyers are seeking both convenience and old style amenities.
Kitchen Design Ideas
We understand that a functional space is more than just durable countertops and high-end appliances. A cook has pots and pans, countertop appliances and gadgets that need storage. Spices and staples can take up a lot of space, but with folding pantries and racks on the inside of a cabinet door, you can free up a shelf.
If your kitchen design centers more on entertaining than cooking, your storage needs will be much different than for a cook or a baker. Rather than cabinets stocked with food and cooking utensils, you might want a wine rack and glass-front display for your finest collectibles. Instead of a double oven or oversized range, you may want a wine cooler and a drawer dishwasher specially designed for stemware.
Kitchen Remodeling
A great kitchen design team will give you all the basics so it will still work for you when you want to cook, but give you all the amenities that will let the good times roll. No longer a place for just making meals, it has now become a place for making memories.
Families use this room as a hub: gathering to plan for the day, eat, do homework, pay bills, and spend time together. Open-concept plans connect the kitchen with the living room and dining room. Your design should ensure unified spaces that fit together like a puzzle.
Modern kitchen cabinets accommodate each person's belongings. Building a counter extension or island with outlets accommodates immersion blenders and internet hookups alike.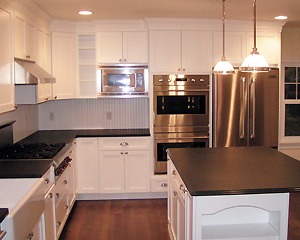 We are a kitchen design company that truly cares about creating something special. We use high quality products from top manufacturers like Brighton, Cuisine Ideal, and Great Northern Cabinetry. We can provide stock, semi-custom or custom storage; this gives you the most exclusive look to accompany your design.
As a kitchen design company for over a decade, we provide local, professional service from start to finish. When we complete a project, we ensure that the home is left in pristine condition. We want to ensure your investment is worth every penny.
Contact us today for a no cost, no obligation design and estimate on kitchen design in Mountain Lakes, Boonton Township, Montville and the nearby communities.