Kitchen Contractors in NJ & NY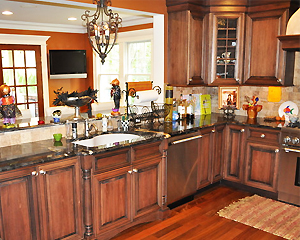 Custom kitchens take cooking and eating space to a new level. It is the ultimate multipurpose room: gathering spot, storage area, and showplace. You can have it exactly the way you wish, with a look that reflects your lifestyle. Call our kitchen remodeling team for a free consultation.
When you envision custom kitchens, what do you see? Are you thinking of uncluttered space? Would you like more countertops for prep and cooking? Do you want top-of-the-line appliances – and more room for them? If you can envision it, we can design and build a beautiful and functional room that will serve you for a lifetime.
Custom kitchens begin with a great layout, and that is our specialty. As designers and builders, we have the capabilities and creativity to help you get the most out of your space. We can open up cramped galleys, repurpose little-used areas, or remove or build walls. You will ask yourself why you didn't remodel sooner!
Design Ideas for Custom Kitchens
Cabinets come in custom, semi-custom and stock selections. We evaluate your space needs and budget to create the storage you need. Keeps the things you need where you want them and eliminate stretching and bending to reach essentials.
Custom kitchens typically include these most-wanted features:
Lighting – Read cookbooks more easily in prep areas; set the mood for dining; and show off those antique china collections dramatically.
Nestled appliances – Cluster features that will get you out the door in the morning: coffee and espresso makers can be placed between a microwave and a sink, with an alcove for a toaster and pantry items.
Splashy backsplashes – A hallmark of custom kitchens is the backsplash. It keeps your walls protected while tying the room together with elegance. Ask us about hot new looks that never get old like shimmering glass squares, bold metallic, subway tiles and elegant natural stone.
Multiple appliances – Second microwaves are great for busy families; another dishwasher makes post-party cleanup easier; double ovens make holiday dinners go faster.
Kitchen island designs add customized space. They often combine appliances, counter space and storage possibilities. They are perfect housing for dishwashers, wine refrigerators and cook tops. A warming drawer allows you to keep hot foods at serving temperature while you prepare other dishes. So convenient!
Custom kitchens also feature storage ideas for small kitchens and older homes. You will be amazed at how alcoves can be reinvented and floor-to-ceiling storage can make the room feel much larger. We can remove walls, too, but if you're not in the market to enlarge, we'll use creative kitchen design. We can source high-end, compact appliances, build clever corner storage, and craft café-style bar seating.
Custom kitchens hold their value. Our designs reflect each client's entertaining style and singular personality through the use of color, finishes and detail. No matter how you want your kitchen to look, you can count on premium quality custom cabinets, materials, personal attention and craftsmanship.
A gourmet cook can get creative with chef-grade appliances and premium surfaces, handy storage and generous prep areas.
A busy family might appreciate storage built for bulk shopping, healthy-snack refrigerators at kid level, and homework/office areas.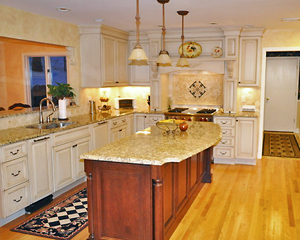 Custom kitchens for frequent party hosts may include an open concept that lets guests relax. Extras like temperature-controlled wine storage, an icemaker and a built-in wet bar add panache to entertainment.
Collectors of fine dishware and serving pieces can give them a showcase them in glass-front cabinets with built-in lighting.
Custom Kitchen Remodeler
Started in 2001 by a home builder, our company creates one-of-a kind kitchens. You will get a level of personal attention and focus on detail from conception to cleanup. Our eye for design can help you solidify an idea, and our building skills will turn it into reality. When we do custom designs, we craft rooms that make life better and more beautiful.
Get a free estimate on custom kitchens in Mountain Lakes, Boonton Township, Montville and all nearby communities.