Our NJ Kitchen Remodelers Can Make Your Dream Kitchen A Reality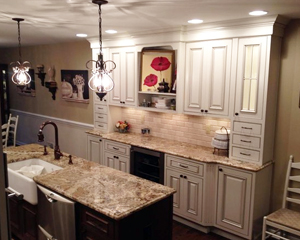 Kitchen remodeling makes your everyday tasks more enjoyable and more efficient. It holds its value and reaps rewards year after year. As your kitchen remodeler, we will work alongside you on a design to reinvigorate your existing space to exacting standards.
What are your kitchen remodeling ideas? Are you modern at heart but stuck with a dated kitchen? Would built-in appliances give you the uncluttered appearance you love? Do you wish you had more storage space for, well, pretty much everything? Creative and thoughtful kitchen renovation can help you meet your goals and match your personal style.
Cabinet design is at the heart of kitchen remodeling. We tailor it to you alone, things like deep drawers for bulky items, and customized nooks for little things that tend to get lost. Your design can repurpose underused areas for storage, seating, or additional counter space. Create new possibilities with a kitchen island or a countertop extension.
Our kitchen remodeling experience spans every décor style from traditional to Tuscan, farmhouse to contemporary, formal to a blend of styles. Our remodelers will look at your entire home and create a design that never appears "added on." Our creations work for the way you live, always keeping quality and function in mind.
Kitchen Remodeling With Increased Storage
The cabinetry in custom kitchens offers special solutions for those who believe everything has its place. Bread drawer liners and produce bins keep perishables fresher and out of the way. Turntable shelving, upgraded lazy Susans and pull-out trays put the focus on convenience and safety.
Kitchen renovation can involve cooking station cabinetry that is sectioned to organize everything. It can handle your largest pots to your smallest ramekins. Spice racks and vertical pull-outs keep everything handy and neat.
Kitchen renovation ideas that are hot right now include deep farmhouse sinks and extendable faucets that do away with space limitations on traditional divided sinks. Range top faucets fill pots quickly and conveniently; multiple sinks and dishwashers are handy for those who like to entertain and large families.
We are a kitchen remodeling specialist can build high-end kitchens for serious home cooks. You can have a restaurant-quality cooktop and spacious, multiple ovens. Rotisseries, warming drawers and indoor grills can be custom-ordered to help you showcase your culinary skills.
Professional-grade range hoods in durable metal or metal and glass add flair and function to custom kitchens. If you want built-in cutting boards or a place for your food processor, our team can find creative ways to add the space.
Do you want kitchen remodeling that helps make cooking easy and elegant? The right amenities and an open concept design are big helps. Elegant granite countertops and natural stone are easy to clean, yet set the stage for vibrant cocktail conversations and dinner parties.
As a quality kitchen remodeler, we can make it happen. Add wine storage befitting of a fine collection; a wet bar with icemaker; even dishwashers built just for delicate crystal.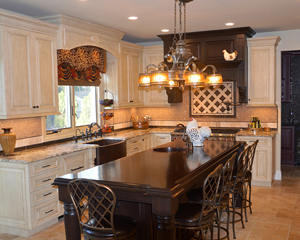 Custom Kitchens
Kitchen remodeling can help busy, time-pressed families, too. Would a kid-height microwave and snack drawer make it easier for everyone to help themselves? Do you need a larger refrigerator? Let us find the best model for your needs and install it. Do you need extra room to stock up on items? You have found the company to design and build whatever you need.
Whether you want to refresh your look or start from scratch, you want an experienced remodeler who understands your needs, shares your vision and respects your budget.
Because our kitchen remodeling expertise includes both design and construction, we will handle every part of the process. Whether you are a homeowner or a builder, you will find that working with us to plan a dream kitchen is truly enjoyable.
When you need kitchen remodeling in Mountain Lakes, Boonton Township, Montville or the surrounding areas, contact us for a free estimate.