Increase The Value of Your NJ Home With Our High-End Kitchen Cabinets
Designing effective kitchen cabinets is an art. Proper installation is a craft. It takes great skill to combine the two. As home remodel experts, we have designed and built high-end kitchens since 2001.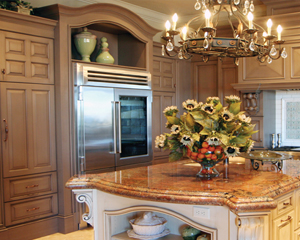 Kitchen cabinets are the anchor of any kitchen remodeling project, and one of the biggest investments. The array of woods, colors, styles and options is vast and constantly growing. Need ideas? Call a kitchen remodeler who can guide you through your choices and design the space you've always wanted.
Whether you need storage ideas for small kitchens or more modern kitchen cabinets, we offer you functional designs and three price options:
Stock cabinets
are factory made in standard sizes and shapes.
Semi-custom cabinets
are factory produced but can accommodate requests for popular modifications.
Custom kitchen cabinets
are designed and made specifically for you.
Custom Cabinetry
Your kitchen cabinetry will be constructed of tongue-in-groove wood for solid, lifetime performance. We carry fine ranges of hardwoods like cherry, as well as dense, sustainable lyptus. While your design will be uniquely tailored to your needs, quality cabinets share basic characteristics.
The box is the part of the kitchen cabinets that is anchored to your wall studs. The best type is furniture grade plywood that is at least one half-inch thick. The front is the outer surface area. This look sets the tone for the entire room, from elegant and understated to bright and bold. These can be straight, beveled, or glass-paneled milled to harmonize with the rest of the overall design.
Kitchen cabinet drawers can be made in large and extra deep sizes to accommodate what you use most. Hide countertop appliances like food processors when they are not in use. Store bulk-sized pantry items and serving bowls easily. Hinges and full extension drawers add smoothness and convenience – no more stooping and reaching to get at what you need.
Hardware for kitchen cabinets includes gliders and rails. Top of the line varieties have soft-close features that make them exceptionally quiet – no more slamming. Hinges should be heavy duty and tight. They can be exposed for a more informal look, or hidden to lend an unbroken appearance. Sometimes they make a statement all their own. Choose one that grabs attention or picks up a material or color that is featured in the room.
Open shelves create easy and attractive access to serving pieces. They break up solid cabinetry and showcase collectibles. We can paint shelves to blend in with fronts or add an unexpected pop of color.
Kitchen cabinets can also include cubbies and vertical storage that let you tuck away platters, plates, linens and bottles in full view. They are great for breaking up solid walls in unexpected ways.
Painting kitchen cabinets in different color blocks creates a dimensional assemblage effect. This is particularly effective in Tuscan and contemporary styles.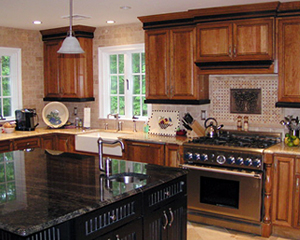 Modern Kitchen Cabinets
An outdated and inefficient cooking space will be transformed into the organized and functional room you need for easy living. What makes a solid kitchen cabinet design? It is what works for you and your lifestyle. We start our process by visiting your home. We ask you questions, measure precisely, and fine-tune the features until you are satisfied. Our job is to help you envision possibilities you may not have considered.
If you like to cook, you may want more counter space. If you need storage, you can add solid floor-to-ceiling units. Add a desk, built-in appliances and a media center for a true multitasking room that works as efficiently as you do.
Building kitchen cabinets, whether you are a homeowner or a builder, should be enjoyable and exciting. We collaborate with you on initial design, ordering, supervising subcontractors and cleanup. You will admire the flawless and functional results – and so will your visitors.
When you are in the market for kitchen cabinets in Mountain Lakes, Boonton Township, Montville and surrounding cities, call for a free cost estimate.