Custom Built Kitchen & Bathroom Cabinets in NJ & NY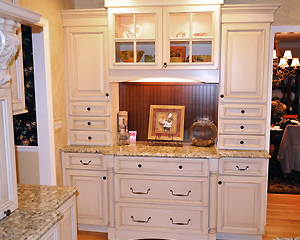 Custom cabinets make your kitchen and bath functional and one of a kind. We create them exclusively for you in a selection of hardwoods and finishes with all the features you want. No detail is too small for us to consider in our storage designs.
Custom cabinets are a marriage of form and function. Think of them as a fine furniture investment that also stands up to heavy, daily use. Ours is created just for you, from heavy-duty glides and hinges to stunning woods and finishes. Whether you are a gourmet cook or a busy family, made to order storage showcases your style and simplifies your life.
We Design Custom Cabinets
The true beauty of custom cabinets comes together like an intricate puzzle – and the effort put into it is unmistakable.
We work with you throughout the process, from concept to cleanup, to ensure you are getting exactly what you envision. Good planning saves on time and cost overruns. Every tradesman will be on the same page. Every pull will match its screw; every screw will match its hole.
While all the bath and kitchen cabinets we offer are solidly made and perfectly installed, custom designs go a step above. Nothing is left to chance when we plan your storage features. We consider the size of the room, how it flows and – most importantly – how you use it.
Because we are a home remodeling contractor, we can help you express yourself down to the last detail. Get luxury finishes and materials like hand-hewn cherry, exotic lyptus, mahogany, brushed stone or painted – whatever look you love. We turn ideas into expertly fitted drawers and frames in the dimensions you need, with designs that makes your life easier.
Our custom cabinet makers will come out, measure several times and have a series of meetings to discuss your plans and materials. We prefer to meet with every user to ensure we have all the input needed to create the right look and features. We will render a design that reflects the way you work, relax and entertain.
Custom cabinet design is almost like an extension of you and your family. Proportions will be just right for the size of the room. Heights and depths will be comfortable and accommodating.
Built-in appliances and storage blend seamlessly into an architectural whole. We can put what you use most within reach so you don't have to stretch and strain to get to it. We can build boxes that fit every pot, pan and platter. A pull-out larder will add panache to your cooking. Prep space will be the perfect dimensions for your needs.
Custom kitchen island cabinets are the perfect place to store out of season dishware or bulky countertop appliances.
Bathroom remodel ideas center on custom vanities to cut clutter and make personal time special. Everything will be in its place. Store linens, hair dryers, makeup and more without spills, tangled cords and confusion.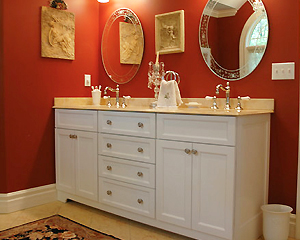 Custom cabinets streamline your routines and makes evening preparation more relaxed. A perfect fit makes opening and closing them simple and silent. The materials are thick and designed to last through humidity, daily use and changing needs.
Whether you have a custom cabinet design in mind or need ideas, we are a highly experienced house remodeler that can give you organization and self-expression. In business since 2001, our customer satisfaction is expressed in our Angie's List reviews and A+ rating with the Better Business Bureau. See the difference one-of-a-kind storage can make!
We offer custom cabinets in Mountain Lakes, Boonton Township, Montville and all of the nearby area.