Custom Designed Kitchen & Bathroom Cabinets in NJ & NY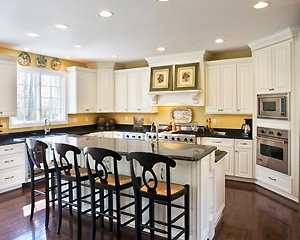 Great cabinet design integrates quality workmanship, unique style and top grade material. Whether your look is ornate, minimalist or somewhere in between, we can create artful kitchen and bathroom storage that is also very functional. Each design is one of a kind and built to last a lifetime.
We offer many custom cabinets as well as a semi-custom and high quality stock storage for kitchens, bathrooms and more. We can source a beautiful array of hardwoods and finishes that keep their looks, strength and value.
Although there are tried and true layout principles such as placing cooktop, refrigerator and sink within steps of one another, different homeowners need different types of arrangements. Someone who enjoys buying bulk foods will need a different plan than someone who likes to collect delicate dishware. The lazy Susan concept adds storage under sinks and in corners. Pantries can feature swing-out shelves to pack more items in a small area. Vertical dividers store baking pans and cutting boards more easily.
When you work with our design service, you will finally get all the storage you need where you need it. Custom cabinets can feature floor-to-ceiling storage, folding pantries and kitchen islands that store and seat.
Bathroom vanities can hold all of your grooming tools, medicine and cleaners in purpose-built drawers. Custom sizes ensure everything has its place and fits without cramming. Glide-out drawers can be sectioned to organize different sized items and let you see everything instantly. Open shelves and cubbies create an airy feel and keep everything you need within sight.
If you want functional cabinet design with elegant looks, call us. We work with top manufacturers like Brighton, Cuisine Ideal, and Great Northern Cabinetry to create vanities and linen storage. Whether under-sink, stand-alone or floating, you can count on solid construction, elegant wood and fine detail.
We will configure your cabinet design to your unique taste. We'll never push a style on you because it's trendy or convenient for us. Because we are both builders and designers, we can accommodate any style. We can help you set priorities within your budget and available space.
The bathroom or kitchen cabinet design we create with you is only limited by your budget and imagination. If you want to create a spacious feeling in a large room, we can build to the scale you need. If space is limited, we will find exciting ways to use it or repurpose it. Even the toe-kick area can be turned into storage.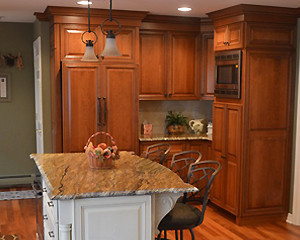 When you work with a house remodeler who designs as well as builds, you will get the results you hope for. We are capable of finding extra room in some unexpected places.
Custom cabinet design is an investment that has to be done right. Our designers spend a lot of time planning before we place an order to create the perfect balance of function and beauty. We know the difference between of-the-moment trends and solid ideas that stand the test of time.
Schedule a free consultation today.
You won't believe how custom, stock and semi-custom cabinets can simplify your life, maximize space and make everyday tasks more enjoyable.
We offer cabinet design in Mountain Lakes, Boonton Township, Montville and all of the surrounding areas.