Custom Designed Bathroom Cabinets & Vanities in NJ & NY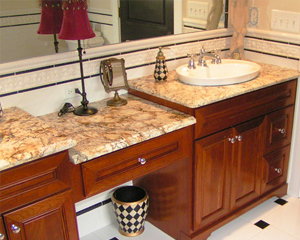 Bathroom cabinets are the backbone of your bathroom remodel ideas. From floor types to floating, you should have room for everything you need to use and store. And you should insist on countertops and sinks that are easy to clean and easy to love. Call our home remodeling contractors for a free estimate.
We sell bathroom cabinetry to both homeowners and new home builders. You can choose from custom cabinets, semi-custom cabinets or you can select stock as it comes from the manufacturer. We source the products of some of the top creators in the industry, including Brighton, Cuisine Ideal, Great Northern Cabinetry and more.
Now you can have bathroom cabinets that are as beautiful as your best furniture, echoing your home decor. From exotic woods to contemporary hardware, our vanities and linen storage will reflect your style and perform perfectly. Of course, we'll also help you select the perfect countertop, sink and faucets.
For bathroom cabinets, hardwoods add depth and elegance. They range from flat-front contemporary to richly carved. They can be specially treated and painted to withstand humidity for perfect lifetime performance. We can either stain or paint in total sync with the décor.
Bathroom Cabinets as Vanities
Construction – The bathroom cabinet carcass provides the three walls and bottom that support the structure. It is usually backed with furniture-grade plywood – not the flimsy hardware store style – that is often stronger than pure hardwood. Corner braces keep the angles plumb and help support the counters. Drawers can be built in any size and pull out on rails. The best ones are soft-close to eliminate slamming.
Bathroom cabinet doors – These are usually constructed of hardwood and are often the defining feature of a particular style. They rest on hinges that open with a decorative pull. The face frame is the border area around the door. It can be as wide or narrow as you wish to compliment your décor objectives. The toe-kick is the short vertical wall underneath the cabinet door.
Countertops – The countertop, with or without a built-in sink, rests on the carcass and sets a tone for the bathroom. Granite, marble, silestone and other nature-inspired choices offer dramatic elegance, a wide variety of color choices and high style.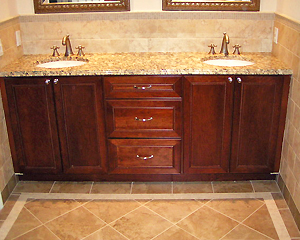 The cost of bathroom remodeling is up to your taste and budget. We have been designing and installing bathroom cabinets since 2001. Let us sit down with you and discuss your needs and style ideas in depth. Show us pictures from magazines or the Internet. Share your drawings or wish list. As designers and builders, we will tell you which ideas are workable in your bath and work exceptionally hard to delight you.
A small bathroom cabinet remodel relies on well-planned cabinetry to stay tidy and organized. Corner and under-sink storage hold everything you need and allows you easy access. Consider matching upper cabinets on each side of the sink – his and hers. Or consider shelves and cabinetry above the toilet. Don't forget luxury touches like roll-out drawer extensions; they make it easy to reach the things you need without hunting around in the back of the vanity.
Other trends in bathroom cabinets include peg boards and cubbies to keep small items handy, visible and neat. Drawers can be custom-built with wood sections specially sized to organize makeup, electric shavers, and a receptacle just to hold your hair dryer.
We install bathroom cabinets in Mountain Lakes, Boonton Township, Montville and all of the surrounding areas.