Custom Kitchen & Bathroom Cabinet Designers in NJ & NY
Cabinets provide more than just storage for your home. In the right hands, they are furniture that becomes a beautiful focal point for the room they're in. Whether you need more functional bathroom storage ideas or kitchen cabinet design, we'll take your style up a notch.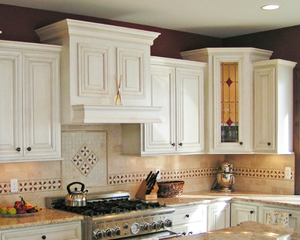 Our cabinets always look and fit right because we are designers first and foremost. We consider room proportion, the tone of the wood or the color of the paint. We look at styling details and other features like backsplashes, tile, countertops and lighting. The entire package harmonizes.
Solve your storage issues. Call now for a free kitchen and bath remodeling consultation. We offer you the choice of custom cabinets, semi-custom, and stock products from trusted manufacturers like Brighton, Fieldstone and Kemper. We sell direct as well as design and install the following:
Choose custom cabinets, where the frames, drawers and doors are created for you, to any dimension and wood you choose. Semi-custom cabinets come in stock sizes but are modified and painted to help them fit your space. Stock storage comes in fine wood and brushed or painted stone in standard shapes and sizes from top manufacturers.
We paint our cabinets; we do not stain them.
Explore bathroom storage ideas like roll-out drawer extensions to keep most-needed items handy. Custom compartments can store everything in designated spots to stop spills and extension cord tangles. That unused spa tub can be removed and turned into practical linen storage.
When you choose hardwood for your bath storage, you add instant elegance and enduring strength. There are many styles available, from wall mounted vanities to bathroom corner cabinets that look like fine furniture.
The right type of storage should keep everything you need handy. It might mean keeping things out of sight behind a sleek wall of wood, or brightly showcased behind well-lit glass facings. No matter what your style preference is, we can express it.
Most of the kitchen cabinet design process is positioning storage, counter place, lighting design and task stations. We work with you to create a layout that spares no detail from kitchen island counter overhangs to alcoves to facing styles.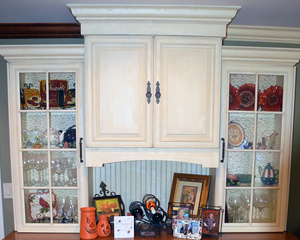 Modern kitchen design – Cabinets can allow for second sinks, dual appliances and islands. If you love to entertain, we will create a better flow between cooking, serving and lounging areas. We can add a built in bar, icemaker, second dishwasher and wine storage for effortless entertaining. Or, if you love to bake and cook for a crowd, built-in features like double ovens, pantries and refrigerators will handle the volume.
Storage ideas for small kitchens – Cabinets alone create a makeover in any size room. Pop-up storage, drawer extensions, and compact appliances make an enormous difference. Pie-cut corners and toe-kicks can be turned into usable storage.
We design and install cabinets, so you will never have any miscommunication between the people who lay out and create your project. We ensure as much pre-planning as possible so that when your order is placed and your deposit taken, you will feel completely confident in your choices. Ironing out details in advance also ensures ordering the correct number of pieces and parts. This prevents cost overruns and wasted time.
Our company has been delighting discerning customers throughout the area since 2001. Call now for a free consultation on new cabinets in Mountain Lakes, Boonton Township, Montville and all nearby areas.