Create Your Dream Bathroom With Our Remodeling Services in NJ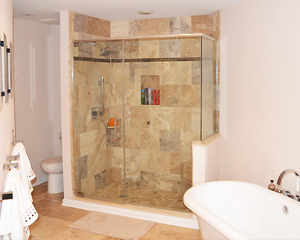 An ideal bathroom remodeling project can help you make the most out of daily rituals. You can trade an unused tub for a two-person shower or install a serene soaking tub. Perhaps you want something as simple as his-and-hers sinks or a privacy wall between toilet and shower. You have many choices in design, cabinetry, tile, fixtures and layout. We have the design-build expertise to give you a look you'll love.
Bathroom remodeling means you don't have to be constrained by the original layout. Both gutting and re-thinking existing space can give you a new look that's luxurious and efficient. It's a space we use every day, so it should meet your needs and be a delight to the eye.
Bathroom Remodeling Ideas
If you want more than resurfacing but less than a tear-out, we can make your existing bath work well and look better. Our design skills and resources can reinvent the room with style and practicality.
The top bathroom remodeling request we get is "more storage." We can add custom bathroom storage cabinets, new vanities and linen storage. We can discover new possibilities along walls at heights that work for your family.
An old spa tub can be removed and the space used for stashing things. Bathroom cabinets can be configured to hold everything from linens to laundry hampers.
Does your bathroom remodel call for a tear-out? If you want to gut the space and start from scratch, you can have every inch exactly as you want. We can utilize nearby square footage – such as a hall closet – that you might never have thought of. The bath is a canvas onto which we project luxury and function.
Luxury baths – Among the most popular high-end features are floor heating and towel warmers that warm you up in winter and surround you with comfort. Materials including marble, granite, teak, and custom tile make you feel pampered. And they are an excellent investment. Crafted bathroom cabinets anchor the décor and create a focal point.
For some, bathroom remodeling includes a spa, multiple shower heads or a steam shower. These amenities offer a five-star spa experience without leaving home. Adding windows, glass block or skylights bathes you in natural light and adds a sense of serenity. What are your must-haves?
New shower ideas – Your shower can be a treat as much as a necessity. Shower heads that spray like rain provide a whole new level of enjoyment. The right tile surround can invigorate or relax. Custom-height soap niches, built-in seats and foot rests will make you feel pampered. You can eliminate the mildew curtain and opt for a sleek glass surround.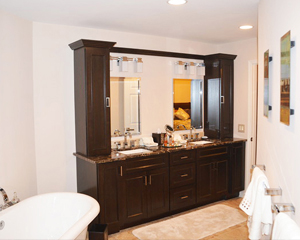 Bathroom Renovation
Another design trend is the handicapped accessible shower. Multiple generations are moving in together, yes, but this bathroom remodeling effort also creates a larger and more luxurious place to clean up. A curb-less entry prevents trips and falls. Guide rails, adjustable shower heads and built-in seats make it easy for all family members to get in and out easily. These versatile additions boost a home's resale value when thoughtfully done.
When it's time for bathroom remodeling, call a local house renovation contractor that's been around since 2001. We offer both design and construction services, so you enjoy one-stop convenience. You, your family and your guests will love the stunning results.
Get a free cost estimate for bathroom remodeling in Mountain Lakes, Boonton Township, Montville and all cities in the area.